REFERRAL PROGRAMS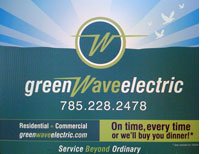 Yard Signs
We also offer a yard sign incentive for our clients. If we do work at your house, we'll knock 10% off the bill up to $25.00 if you let us put a sign in your yard for 30 days. You don't even need to call us to pick it up. We'll make sure it happens.
Refer a Friend
If you have referrals you'd like to send our way, simply fill out the form below.
For electrical service in Topeka and Lawrence, Kansas, complete our Online Request Form, or call an experienced electrician today!
Topeka: 785-228-2478
Lawrence: 785-845-2360