LIGHTING INSTALLATION IN TOPEKA AND LAWRENCE, KANSAS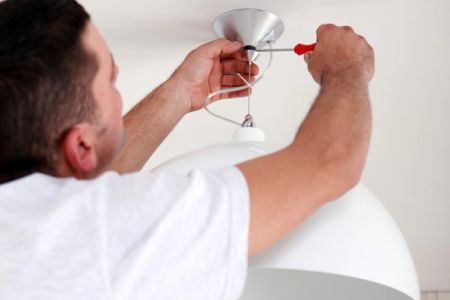 At Greenwave Electric our Topeka and Lawrence, Kansas area lighting installation experts are known for their high quality workmanship when it comes to installing lights and creating beautiful lighting designs. You can rest assured that when you hire us for your lighting installation needs, your home's interior lighting will definitely improve.
Adding lights inside your home can truly enhance the way the interior your home looks. Interior lighting also makes it easy for homeowners to highlight the decorative art, sculptures, and the accents of your home. There are many different types of lighting that can used to display your home. Track lighting, wall sconces, pendant / drop lights, and chandeliers are a few ways to add some character to your home. Rest assured we can assist you with all your lighting needs.
Our Topeka and Lawrence, Kansas SERVICE Contractor Provides:
Lighting Repairs
Lighting Replacement
Lighting Installation
Lighting Wiring Repairs
We Provide SERVICE in the Following Areas:
Topeka, KS | Lawrence, KS | Olathe, KS | Silver Lake, KS | Wakarusa, KS | Leavenworth, KS | Atchison, KS | Auburn, KS | Berryton, KS | Tecumseh, KS
Why Topeka and Lawrence, Kansas Homeowners Should Hire Us For Their SERVICE
At Greenwave Electric, your experience includes treating you and your home with respect. We enjoy our SERVICE work and it shows! From start to finish, our Topeka and Lawrence, Kansas area SERVICE electrical contractors work with you, the homeowner, every step of the way. Our goal is to ensure that your SERVICE project is completed just the way you expect it. We strive for excellent service, that's on time and at an affordable price.
Our Topeka and Lawrence, Kansas electricians have years of experience in the SERVICE field. This experience allows us to complete our projects on time and with unmatched quality. Call on Greenwave Electric today to find out why countless other Topeka and Lawrence, Kansas Area homeowners have chosen us for their electrical service needs.
We look forward to welcoming you as a customer and being your preferred electrician whenever you have a SERVICE problem in your Topeka and Lawrence home. When you invite our Topeka and Lawrence, Kansas electricians into your home, you will encounter not only certified service technicians, but experts who are trained to deliver to you a tailored and unique service experience. Whether you need electrical repairs, electrical upgrades, or just need a professional electrician, Greenwave Electric has you covered.
What Topeka and Lawrence, Kansas Homeowners Are Saying About Our SERVICE
"I found this company using Angie's List and they were highly recommended. Ryan P. did a great job he was on time, pleasant and did a good job explaining what needed to be done. He got the job done more quickly than I expected. I will definitely be using the company again. I signed up for their service partner program. "
- Lori S. | Rated: 3 / 3
Recent Articles About Topeka and Lawrence, Kansas SERVICE
WHY DO CIRCUIT BREAKERS TRIP?
When a circuit breaker trips in your Topeka home, it will cause a power outage, then you'll have to go out to the garage, down to the basement, or somewhere outside of your home to switch the circuit back on. Especially if it's occurring over and over again, this can be very frustrating and if […]
Read More
REASONS FOR GETTING A LAWRENCE ELECTRICAL SAFETY INSPECTION
It's easy to take for granted the luxuries that our modern day electricity in our homes offer but quick to be upset when something goes wrong. There is a great deal of care involved when it comes to electricity and it is essential that you take care of your home in order to make sure […]
Read More
For electrical service in Topeka and Lawrence, Kansas, complete our Online Request Form, or call an experienced electrician today!
Topeka: 785-228-2478
Lawrence: 785-845-2360